The long-awaited sales of the famed Mimosa Leisure Estate marked the end of government control and the beginning of private ownership of this well-known golf and leisure property in Clark Pampanga.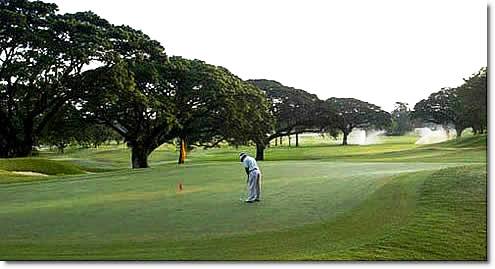 News of a successful bidding followed by a relatively quick turnover of Mimosa to Filinvest travelled fast. Foreign tourists arrived in Philippines via the DMIA Clark International Airport while visitors from Manila travelled north to Clark Pampanga for a round of golf at the much improved Mimosa Golf Course which offers two Championship courses.
The old Holiday Inn hotel inside Mimosa Leisure Estate has been renamed to Quest Hotel. It is early days yet but Filinvest – the new owner of Mimosa – is expected to upgrade the facilities and amenities of this hotel inside Mimosa, as they successfully did with the Mimosa golf course.



Yats Restaurant
is located just 150 meters down the road – Mimosa Drive – from the Quest Hotel – formerly Holiday Inn. Its French continental cuisine is laced with gourmet items. Popular items include Venison, Kangaroo and Wagyu on the red meat section, Guinea Fowl, Pigeon, Quail and Cornish Hens for Poultry and a variety of delectable catch from the sea such as Turbot, Langoustine and Lobsters. With 2800 items on this restaurant's award-winning wine list, guests can surely find some bottles of wine to complete the dining experience.
Yats Restaurant
is just 100 meters down the road – Mimosa Drive – from the Quest Hotel which was Holiday Inn before the sale of Mimosa Golf and Leisure Estate to Filinvest. The short walk enables guests of the Quest hotel to enjoy a really good meal while enjoying the wonderful facilities in Mimosa.
AWARD WINNING RESTAURANT WINE LIST
One Clark restaurant stands out among the elite and famous restaurants in Pampanga, Angeles City and Clark airfield. It is Yats Restaurant and Wine Lounge which has long been regarded by Manila wine lovers as the restaurant that offers the best restaurant wine list in the Philippines.


For several years in a row,
Yats Restaurant
has been given the best of awards of excellence by world famous wine publication called Wine Spectator. This award is given to some 800 restaurants around the world and Yats Restaurant is the only one in the Philippines to receive it.
This restaurant in Clark Philippines offers over 2500 selections of wine. The collection of wine not only covers all major wine regions of the world but also offers back vintages dating over 100 years. Prices are in line with what visitors would expect when shopping in Clark Freeport Zone. Of particular interest in the average wine lover from Manila or visitors arriving in Clark from cities around the world are aged vintage wines offered at affordable prices.




RESERVATIONS AND INQUIRIES


Yats Restaurant and Wine Lounge
Mimosa Drive past Quest Hotel,
Mimosa Leisure Estate, Clark field,
Clark Freeport Zone, Pampanga, Philippines 2023
Tel: (045) 599-5600
Mobile/SMS: 0917-520-4401
Manila Sales Office
3003C East Tower, Phil Stock Exchange Center,
Exchange Rd Ortigas Metro Manila, Philippines 1605
Tel: (632) 637-5019
Mobile/SMS: 0917-540-3626


Email: Manager@YatsRestaurant.com


http://www.yatsrestaurant.com

FACEBOOK:
Click here to sign up to be a friend of Yats Wine Cellars to keep abreast of what's happening in the wine scene in Philippines.